Saturday, January 25th
The Chastain Farms
Winterboro, AL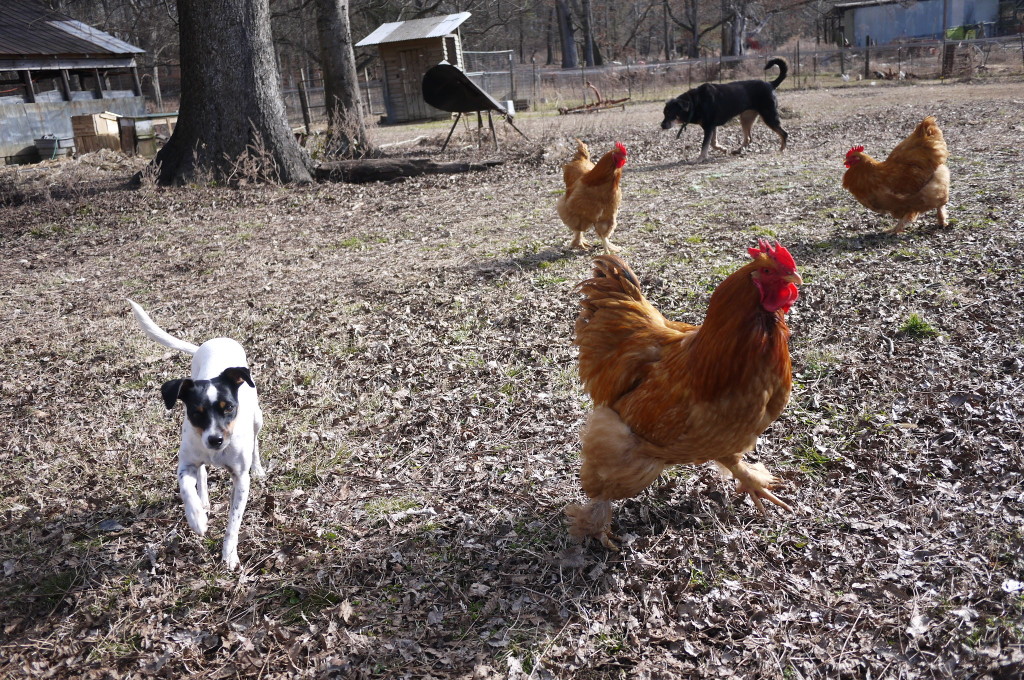 Today  Nathan, Kimm, & SoCal Billy n' Etti  headed out early in the morning, to take a two-hour drive to Georgia. They were headed to a rental house Nathan owned there, on a mission to get some needed repairs done before a new tenant moved in. Kristin and I stayed back alone with orders to build a chicken brooder, in preparation for the 50 two-day old chicks that would be arriving via USPS on Wednesday.
The type Nathan wanted built was a "hover brooder" – a slightly raised ~4×4′ box with two heat lights in the ceiling, a 4″ gap for chicks to duck under, and a ~6″ high box. The baby chicks would be able to stay warm as though they were being sat upon by their mothers, moving them along in their development toward meaty broiler chickens ready for sale.
So we hauled a wooden pallet back from the Camphouse and broke it down into good side boards, 7.5″ high. We cut 2 4′ sideboards, 2 4'2″ sideboards,  a 4′ x4'2″ roof of chipboard, four and 11.5″ 4×4 posts , and put it together.
Then we scavenged through the various barns and sheds, hunting for light bulb fixtures among the amazing array of materials. We found the electrical boxes quickly, but the porcelain socket plates proved far more elusive. We went through all the structures without finding any – and just when it seemed time to call Nathan and tell him to pick up a couple from the hardware store on the way back to the farm, two appeared inside different Tupperware bins we checked inside the Tool Barn.
We didn't have the wiring to use, and had to confirm with Nathan our plan to mount them on top, dropped through from above, so we held the project there for the time being, and moved onto the net project: preparing the brooder house.
First we built a divider wall down the middle of the old stone outbuilding that would serve as a brooder house. We found an assembled section of old boards up the Tool Barn loft, chopped off the top couple boards and a bit off one end to make it both easy to step over and fit snugly into the gap from the former fireplace – it fit perfectly, stayed upright on its own, and would be easy to remove as needed.
Then we stapled some plastic leftover from the greenhouse covering over the windows to help minimize draftiness, and rounded off the day by feeding the animals their dinner before the crew returned from Georgia.
Later that night we all went over to Kimms to eat dinner and watch a movie. On the way over I commented that I was going more for the people than the movie – this turned out to be more accurate than I realized, as the pay per view system broke down on us when we tried to watch a horror movie ("The Conjuring") and instead, a lengthy speaker-phone customer service comedy ensued – and after a couple hours of trying, we gave up and went back to the Milking Barn to sleep.