This week the nature that surrounds us really started chowing down on our field, as summer shows signs of weakening and all local life feels the fear of coming winter in our cell membranes.
We, too, are aware of the way summer's end slips past with such eerie speed, and have started to look at maps, making first forays into planning our snowbird's flight. Tomatoes are being sauced, corn shucked, beets pickled, and all of it canned up for us to eat over the winter and early spring, when we're separated from our garden's fresh sustenance.
Of course, we're not the only ones loving the garden. The cabbage luper larvae – cute little green caterpillars – are riddling the edible leaves with holes, leaving shotgun blast patterns in cabbages and collards, broccoli and kale. The tunneling voles have taken to increasingly brazen surface raids, gnawing into melons, tomatoes, edamame, beets, potatoes, carrots … pretty much everything.   Mice are raiding all the structures and vehicles, seeking places to nest and steal/stash food. Mosquitoes are desperately seeking the protein they require to bring forth descendants. The rabbit population seems to be held in check by the local gang of coyotes, which sing a bloodlusty song into the night whenever a mammal is made a meal.
Everybody's hungry –  hopefully including you, gentle shareholder – because we've taken a whole lot of food away from the critters of the field to give to you!
Box 11
uffins.
While I can certainly understand why most CSAs are content to let the watermelon take up half f your allotted weekly box, we were fortunate enough to have a whole lot of help with today's harvest, and with the many helping hands making light work, we were able to pack boxes to the brim, with a melon on the side! Much gratitude to the folks who made it possible … Shareholder Amy, Neighbor Marcia, WWOOFers Grace, David, and Sarah, Friends Steffan, Angela, and Aura  …. it really does take a village to raise a farm, and we're so grateful to be village people with y'all. Or villagers. Whatever. We love you.
Watermelon – We harvested several varieties of melons this week – Sugar Babies, Early Moonbeams, Peace, and Crimson Sweets-  so you have roughly 50% odds of either a red or a yellow fleshed melon. Let us know if you're is particularly delicious or not-delicious, so we can have some feedback on our attempts at determining how ripe they are before harvesting!
Ground Cherries – Not actually a cherry, really a sweeter relative of tomatillos. If you haven't had these before, you're in for a treat I hope. We had a lot of awesome help for harvest today, so we took the time to really sort through these and remove most of the unripe or damaged fruits. Peel off the husks, or pop them out by squeezing at the back near the stems. Enjoy plain as a snack, or add to pancakes or muffins …
Tomatoes – We are trying to give you as many beautiful heirlooms as we can fit into the boxes, while the plants are still producing them like this … it won't be long before this seasonal abundance falters, and we all start the annual process of missing them until next year …
Potatoes (All Blue variety) – These do maintain their unusual color even when cooked! How often can a scoop of mashed potatoes look stunning?!
Edamame – Did you practice last week? Here's the bonanza we promised you … you can do the standard boil/salt/snack thing, or take the time to shell them, cook them, and add a delicious protein into a stirfry – now or later, if you freeze them!
Onions – A mix of red, white, and yellow.
Cucumbers
Zucchini / Summer Squash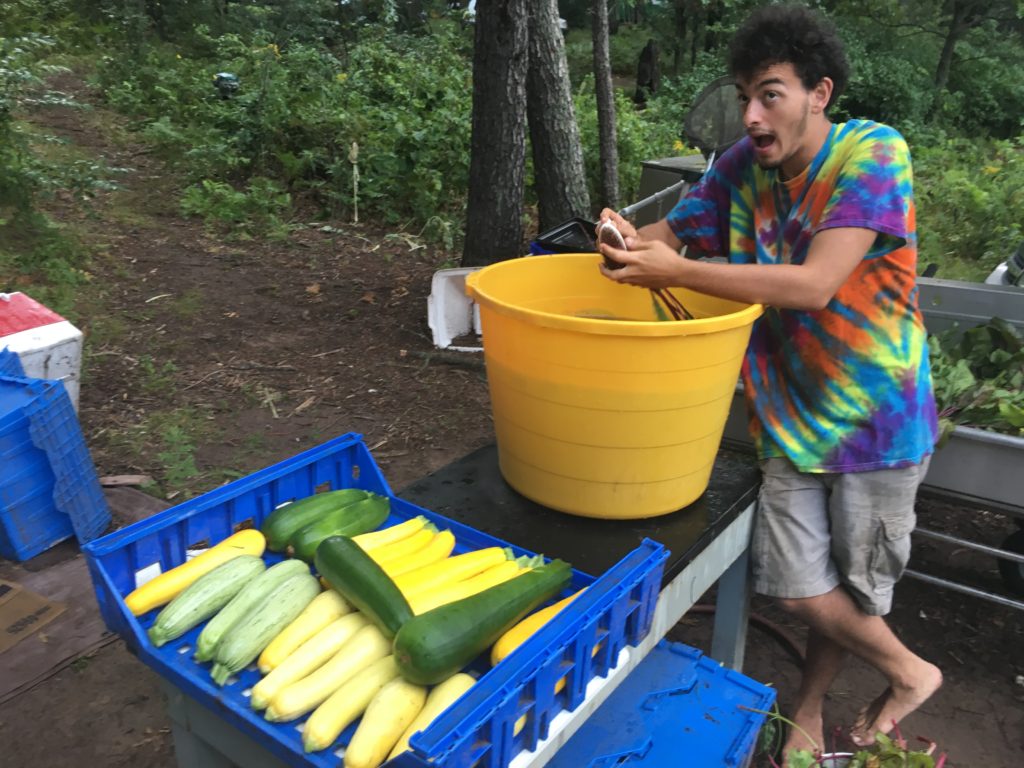 Peppers – hot and mild mixes –  The hotties are in a plastic bag, while the mild ones are loose in the box.
An eggplant –  Yours might be green, greenish, purple, or white, skinny or clublike or chubby. Whatever it looks like, it'll be good!
Collard Greens – One of the crops being munched up by baby cabbage luper moth – we picked the best-looking leaves, but they still bear holes … perfectly edible, just cosmetic damage – made possible by organic pesticide-free growing practices!
Italian Basil          
Yard-Long Beans (Large shares only) – As novel as they are at these incredible lengths, it still seems to work best to cut them into smaller bits before serving … although it's still kinda fun.