Another beautiful week in the Barrens! Actually, the weather was pretty blah – lots of gray, lots of cool drizzle – but the people and the places and the things around us were just lovely.
Friends and family visited, helpers were pleasantly abundant, the biting bugs waned, and many good dogs partied hard.
We did a lot of foraging out in the Barrens , questing out randomly and finding some weedy logging road to crawl through in the Subaru, window shopping for fruits and fungi, then hopping out to pick here and there when good spots were found.
The haul this week was mainly chokecherries, which are having an abundant year – almost anywhere we stopped, we found little trees laden with clusters of them.
Eaten straight from the tree, they'll make most anyone grimace. But the astringent aspect is tamed by processing their juice with sugar, and the resultant jelly is absolutely delicious. – especially when mixed with a bunch of blackberries, which are ripening all over our own woods this year.
Kristin was busy with all kinds of preservation projects, actually, from the "Barrensberry" jelly, to wild cherry extract, to pickles and relish, to dehydrated kale chips.  The Brooklynites Sean & Alexi helped her out, as they were interested to learn how these things work.
In the field, we worked on getting some of the last fall planting done; already, the radishes, turnips, lettuce planted earlier in the week are now coming up, tiny green stalks questing  up into the sunlight.
Speaking of life, we went in to the doctor and found out that our baby is perfectly in sync with the CSA – both are 10 weeks along!
And speaking of that, here's …
the Week 10 Box:
A great box to make ratatouille or moussaka with!!
Tomatoes – the plants in the high tunnel are looking good, but the field are struggling a bit right now – the voles have decided that tomato plant roots are a delicacy, and they're slowly messing them up but good.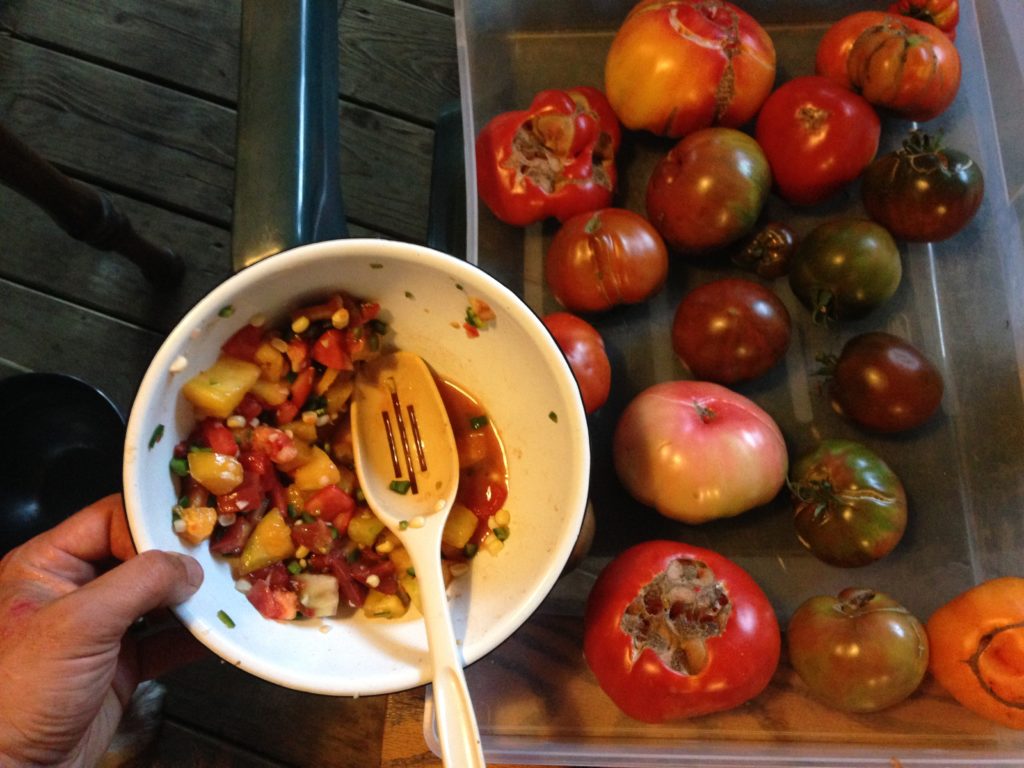 Mild Pepper Medley  –(green bell, sweet banana, purple bell, frying varieties) – you may get some or all of the above, but regardless, none will burn your face off.
Shallots – often described as "the flavor of garlic and onion combined," we decided to grow this since we have such trouble growing garlic (it must be planted in the fall, and then the voles like to feed on the bulbs underground all winter). Use like an extra-tasty onion!
Cucumbers
White Onions – weren't planning on including these in this week's box, but some were starting to flower so we pulled em, before they started turning their bulb energy into flower energy …
Zucchini
Eggplant – Eggplants are going strong! There will be more … be ready! They are underrated in our culture, but very versatile and, when done right, absolutely delicious …. Kristin's advice is not to try to make them healthy, cook them with lots of oil! Or, simmer them in a tasty sauce – they absorb flavors nicely after awhile.
Beans –  the bean plants are FINALLY slowing down production, thank the gods.
Rutabagas & Rutabaga Greens – the greens can be cooked in a recipe and used anyplace that collards or turnip greens are called for. The rutabagas root have cosmetic damage from Cabbage Root Worms – not sure why the critters like them so much this year, but que sera sera – this is what you must sometimes face when you grow organically, without pesticides! We pulled the entire row up and gave you the least damaged ones – just carve or peel off the outside damage, and chop up, avoiding any ugly spots if you'd like.
Herb Mix – parsley, sage, savory, Mexican tarragon, purple basil