The drought continued all week, up until this morning, so we got to harvest and pack boxes in the rain. It wasn't bad, and we needed it. There was high tunnel harvest to do during the brief downpour part, although it did make Kristin run around in it cutting melons of the vines, for fear that they would split open.
This was a tomato-tastic week. The high tunnel plants are taller than us and positively laden with huge fruit, the cherry tomato plants in the field are simply bonkers, a wall of constantly ripening flavor bombs. We are making ketchup and canning smoked tomatoes and jarring tomato juice and making plans to make more tomato stuff.
The rain was exciting this morning (when it finally stopped dodging us), but the real excitement this week came when we were awakened at dawn on Sunday morning by a cacophony of chicken cries, a birdy bedlam unlike any of the many bizarre and startling noises that they usually make. I rushed outside, confused about how whatever it was could even be happening since I hadn't yet let any of them out of their coops. Following the continued cries I discovered the mama hen who tended the most recent hatch of seven chicks, rushing about in a horrible tizzy.
Her little herd of fluff ball chicks were all in hiding, slowly they rejoined her, first one, then a couple more, and more, until all but one of the seven were accounted for. I looked around but saw no sign of her. Laying conspicuously on the ground in the middle of it all was this feather: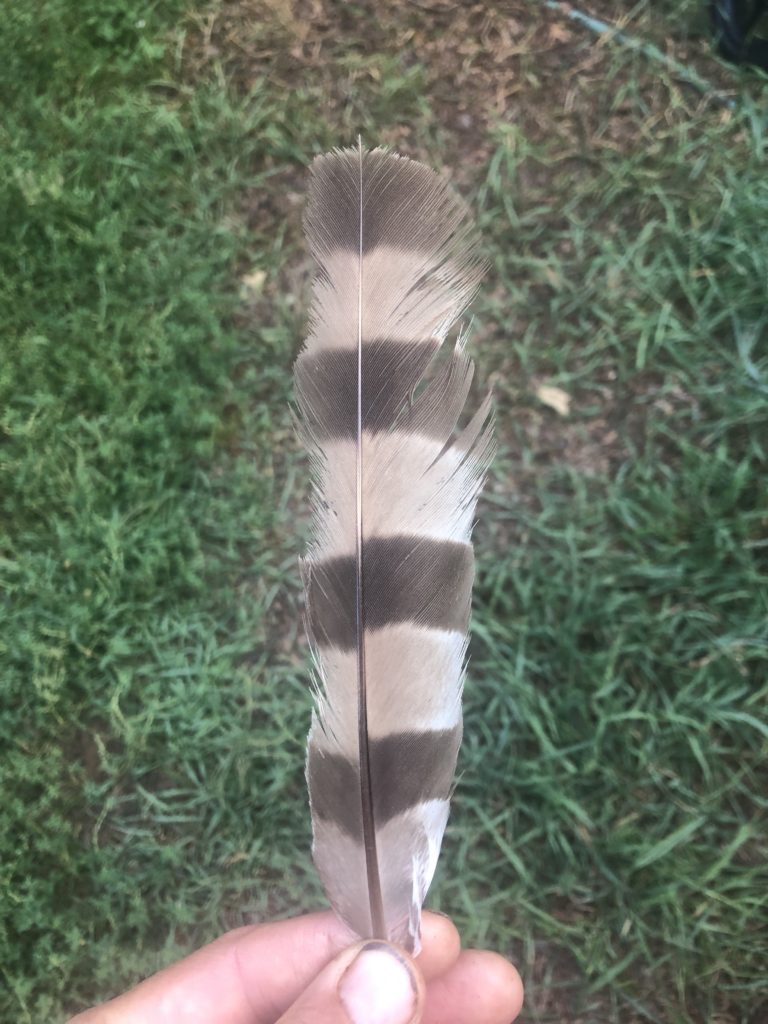 I knew right away it was from a bird of prey, and the cause of the commotion seemed clear – a hawk had swooped down and snatched one of the chicks up. I returned to bed and updated Kristin and Otis about the loss … but then, within an hour I checked on them again and saw that the seventh had returned; clearly shaken, more skittish than ever, and with a bit of blood around one of her feet … but alive and pretty much well! (Amusingly, the mama hen was one of Gargoyle's hatch that we thought were dead last year … they seem to be a lineage of near-death survivors.)
Overall, it's summertime abundance time on the farm, even as we feel the pivot turning us inexorably toward autumn. Sweatshirt mornings, comforter nights; double-digit CSA week numbers. That's a poem, perhaps.
We had another awesome week at the market, and spent all our field time harvesting again and again, trying to keep up with the season of abundance. It's still stressful, but it's hard not to be aware even amidst it that we are lucky to have problems of too much of too many good things – especially after such a challenging and mean spring.
The woods around us are lush and lively, the days are just idyllic, packed with postcard-summer moments and Instagram scenes. It's easy to remember how lucky we are to live this life in this place as we watch Otis transforming, surrounded by the strange and beautiful nest we have built here.
It's a good life .
Inside Box 12
Zucchini – The backbone of the veggie garden remains unbowed, unbroken; defiant, proud, productive. Monster beast plants that can't stop and won't stop.
Watermelon – (red or yellow)- we could grow mini watermelons and save ourselves some strain, but they never taste as good as the full size ones it seems. You could combine some with your basil microgreens to make a salad or an agua frescaa. If you got a red one you could even pickle the rind (the yellows don't have much of it).
Edamame – We had to harvest these in the rain, so they're kind of dirty. So wash them before you boil them until the pods soften so the beans will pop out easily. Like pasta, try 5 or 10 minutes and test to see if they need more. Most commonly, folks salt the pods and use their mouths to pop the beans out into their faces, but if that's not your jam, you can use your fingers to pop em out and then use the beans in a dish. You likely don't have enough to make hummus, but they're great in stirfries and salads.
Shallots – onions with a superiority complex.
Carrots – It was great carrot-pulling weather this morning.
Choi – The stems are crunchy and tasty when sliced up, and the leaves are delicious too. If you stirfry it, add the stems in first because they need longer than the leaves. Or save time and eat 'em raw.
Broccoli – sideshoots from the same Spring plants that struggled so badly with the early heatwave. They are making up for lost chances with abundant side shoots. Call them "Baby Broccoli" and they'll be cuter and therefore taste better, says a scientist.
Cherry Tomatoes – oh my god. Good thing this was the year we finally figured out how to make an awesomely effective trellis for these, because they're coo-coo bananas. We did this yesterday, but skipped the herbs part: https://www.dinneratthezoo.com/roasted-cherry-tomatoes/ – it concentrates the flavor of the cherry tomatoes and you can burn through a lot of them this way.
Tomatoes – There is a special form of yoga one performs when harvesting these from the jungle inside of the high tunnel. Kristin saw a tempting tomato tart recipe somewhere but now we don't know which one it was. They all look good, as do the tomato galettes.
Basil Microgreens – these want to be with your tomatoes, don't stand in their way. Pasta dish topping?
Ground Cherries – did you eat these out of your grandparents' garden when you were a kid? Be a lot cooler if you did. But if it's too late you can still make memories with them now, for yourself – and any children in the vicinity, if you're willing to share them.
Okra? Probably not, but two of you won the okra lottery this week, enjoy!