Friday, January 24th
The Chastain Farms
Winterboro, AL
This morning when we woke up, it was actually colder here than it was back in Minneapolis or Wolf Creek: 14 here, and 19 back home – only slightly, and only briefly, but it was noteworthy since it's generally been at about 30 to 40 degrees warmer here most of the time.
After we fed the animals, the Southern CA WWOOFers and the Alabama natives hunkered down inside, waiting for the day to warm up a bit. In the meantime, Kristin and I took our cold-hardened bodies out to the field, to tweak the levels of the high tunnel greenhouse posts (the leveling system that had been used previously had been inaccurate, so the posts needed to be adjusted to true level).
We moved down the row from the corner post, lowering each post slightly to match it with a few sledgehammer hits – until we got to the final 2 posts of the 9, which were actually still lower than the others. Not wanting to knock all the posts down even further to match, we left them be and waited for Nathan to return to the farm to decide if all should be lowered, or if we could try to pull the two low ones back up a bit.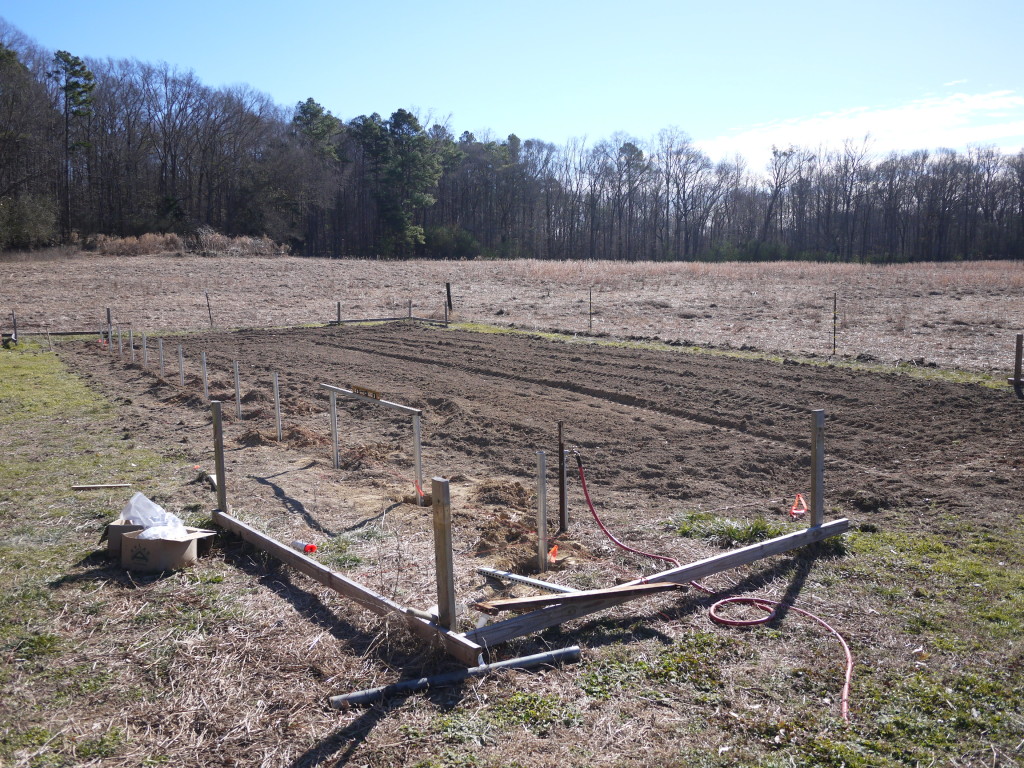 After a couple of hours it was deemed warm enough to survive outdoors for warm climate humans, and Etti & Billy worked in the field, cleaning up the two long rows of turnips that the farmers had somehow been bewitched into planting although neither they nor their customers really wanted them. Kristin asked the to save any good looking ones so she could cook with them as well as preserve some.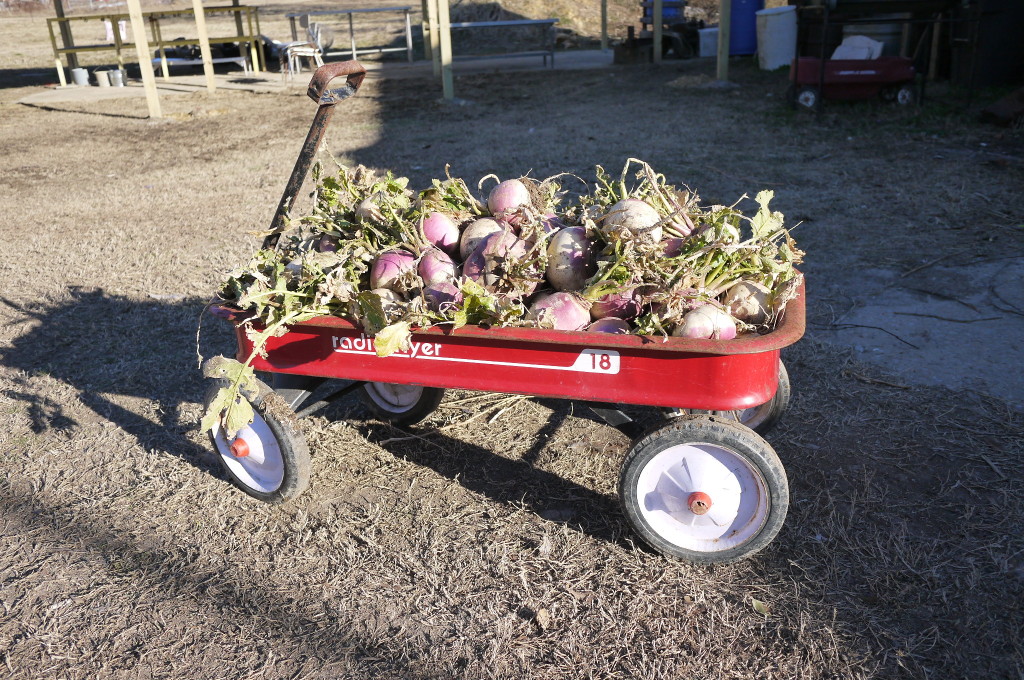 While they worked the field, Kristin and I launched Operation Bathroom Makeover. You may recall how our first impression of the farm here was somewhat tainted by the bathroom – a stark, utilitarian shower/toilet combo with a permanent puddle of muddy water pooled around the base of the toilet and across the floor.
Well, having lived with it a few days, we'd come to realize it wasn't awful – if you wore sandals to shower, the water was hot and the pressure was good, and showers felt great. But still – it was an ugly room and we knew it was a negative experience for the other WWOOFers and something that could give bad impressions to new visitors very easily. So we decided to help them fix it up a little.
We weren't able to level the floor or reroute any plumbing, but we figured there were some key steps we could take.
First, the hideous eroded slab of laminate particle board countertop serving as a shelf had to go. There was gorgeous old barn wood laying around everywhere, and all kinds of possible options ripe with character and beauty. The bathroom would never look sterile and modern and gleaming – so we figured it should be dressed up a bit to bring out the rustic character of the farm.
Kristin found an old wooden box that immediately improved upon the old shelf, but we knew it could be even better – we'd keep our eyes peeled for even better options throughout the day.
We decided a raised wooden floor platform would really help – it would hide the dirt, keep feet dry and clean, and make the bathroom into a place you could venture barefoot without fear, or in socks without grody wet feet.
When we'd re-roofed the greenhouse with boards scavenged from the Tool Barn's loft, I'd set aside a couple cedar floor boards that seemed to be too smooth, straight and clean to use for tacking down plastic roofing – these would be perfect for the bathroom floor, I reckoned.
We took measurements, built a frame from 1×1 treated lumber, and got it together without any major trouble. We were putting the finishing touches on when Nathan returned from the circus he'd been attending with his son's school class all morning,
In the process, Kristin found a gorgeous piece of barnwood with a cool knotted edge – we determined that if we cut it right, it would be an awesome shelf over both the toilet and the back of the sink,  with the wooden box mounted atop the wide part.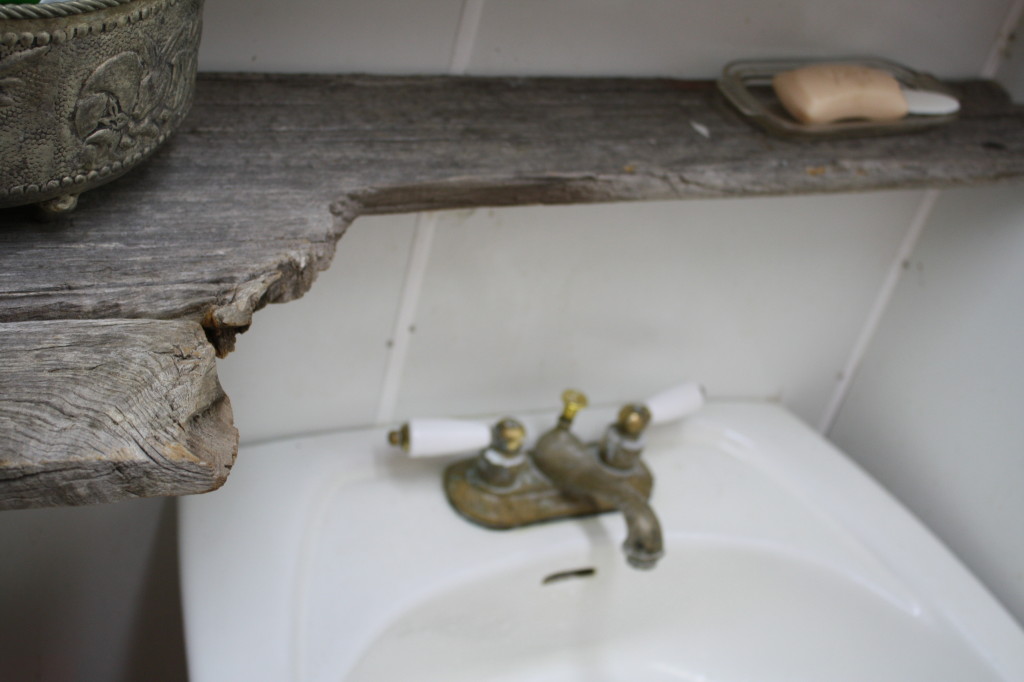 Finally, we replaced the crusty chrome plastic soap dish & added an old tin planter & some other scavenged decorative pieces atop the medicine cabinet (complete with mossy old brick) – and the bathroom remodel was complete.
BEFORE:
AFTER: