Thursday, February 6th
Green Flamingo Organics
Oak Hill, FL
We left Chris' place around noon and headed south, deeper down into Florida toward our destination, halfway down the state's Atlantic Coast.
When we arrived at Green Flamingo around 5:00, there was some confusion as the gate to the farm was locked. We weren't sure we were in the right place until we noticed the green flamingo on the gate post, but then wondered if there was another entrance to use.
So we drove around a bit, almost got stuck in a junkyard that Google swore was a road we could take, found some citrus fruits and a mystery-legume-thing on the side of the road, and then decided to just park the car and walk in.
We left the dogs behind, unsure what we were walking into, and went past boxes of bees and groves of orange trees before finally coming to the far back corner of the property, featuring a cluster of tents and decrepit old trailers.
There we met the other WWOOFers, all of whom hailed from the upper East Coast – a gregarious gay couple named Alex & John, two 18 year old girls who were leaving soon, and Eugene, who was staying in a tent and had a girlfriend living in a nearby town.
Our trailer had been deemed uninhabitable by the others, due to the moist smell and the presence of several amphibious roommates – large frogs that had made the closet their winter home. We decided it would be just fine, with a little adjustment – the frogs could stay, but we'd air it out, clean it up, and rearrange the furniture a bit.
The solar power system died shortly after the sun went down, so we enjoyed homemade pizza and Green Flamingo Farm's signature salad mix in the outdoor kitchen by candlelight.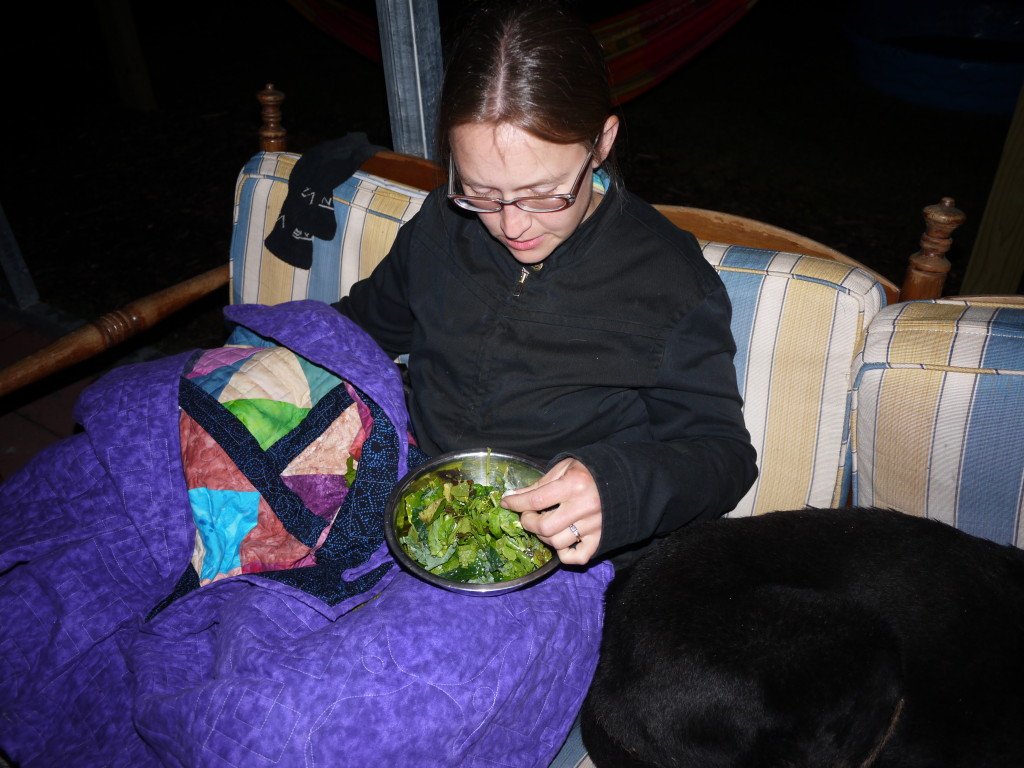 This place feels good. We haven't met the farmer (Liz) yet, but I already feel like I know and like her based upon what she's built here. I suspect we'll learn a lot in the next two weeks, and I'm excited … smiling here in the dark, typing on a couch in the outdoor kitchen, a couple of the others reading by candlelight nearby, Kristin crashed out in the Frog Trailer with the dogs, exhausted from her 5 hour drive.
Actually, I'm tired too – I'm going to head in there now; goodnight!