The harvest alarm went off this morning between blasts of ground-shaking thunder, as bathtubs of water dumped down everywhere illuminated by nearly constant lighting.
Clearly, WWOOFer David's final day with us was going to be a memorable one.
Fortunately, we'd known this was a possibility, and spent much of Monday doing as much as we could in advance; this let us sleep in until past 7 until the worst of the storm had passed, and then finish up what still needed doing in our raincoats.
This was the most recent storm in the recent trend, as summer rages against the dying of the light. The trees have noticed too, and the color changes have started to show among their most eager. And speaking of trees, it's time to start thinking about turning more standing-dead oaks into piles of curing firewood.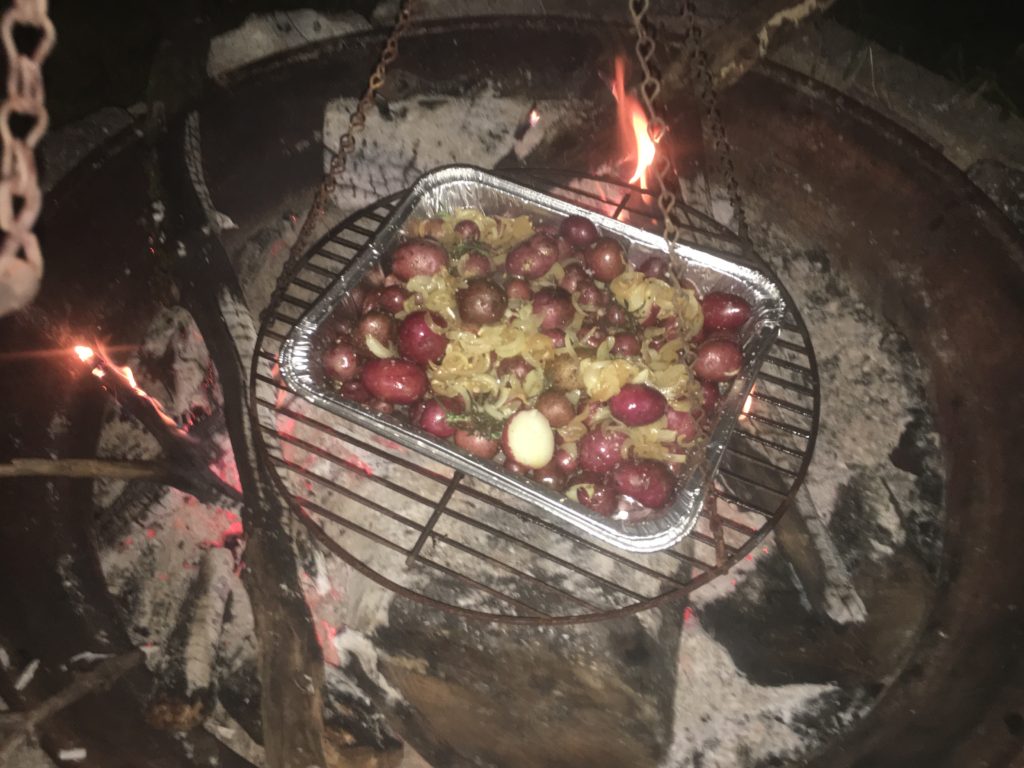 For now, at least, it's still the tail end of summer, when rain storms can be weathered in a swimsuit, and sunny afternoons still end with trips for ice cream and dips in the river.
BOX 14
Salad Mix – Red & Green lettuce, red & green mizuna, arugula, wasabi lettuce, & pea tips – big leaves for chopped salads!
Potatoes
– one of 3 varieties:Sarah & Marty harvesting potatoesRusset have crackly-looking spotted skins – Idaho potato style. Make great gnocchi, baked potatoes, light-textured mashed potatoes. Won't hold its shape if you try to cube it, slice it, make fries, etc.
Yukon Gold – light, smooth, pale skin. Better for potato salads, home fries, and other preparations that require the potato to hold its form.
Pontiac Red – similar to the Yukons, but with red skins.
Tomatoes

A variety of heirloom and cherry varieties. This could very well be the last week we'll have many good tomatoes for the boxes – the field plants are looking mostly ready to be pulled out and disposed of this week, and the high tunnel plants aren't producing like they once were. So cherish them!
Carrots –
orange yellow and purple varieties! Big ones tend to be better to cook with, and small ones may be best enjoyed eaten raw.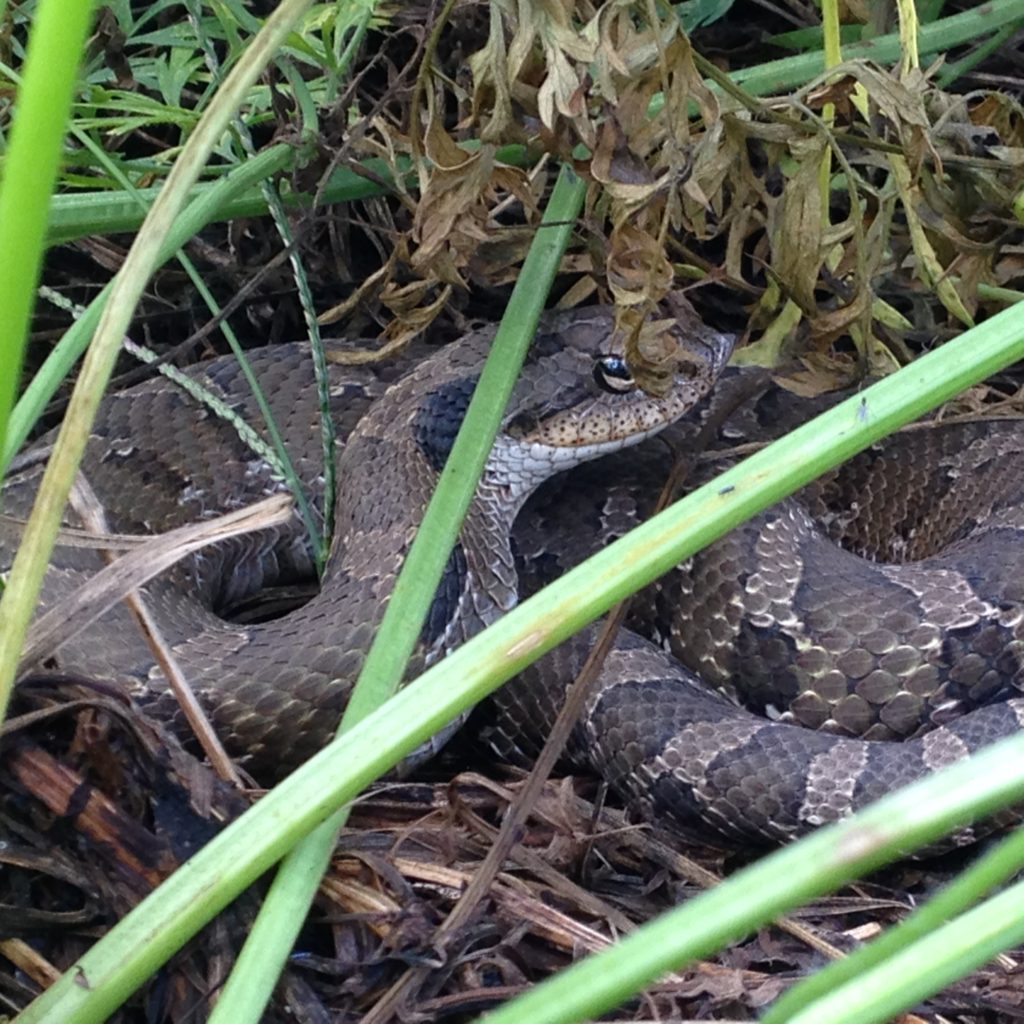 a small zucchini –
sautee it with some other stuff I reckon
Tomatillos bagged with Hot Peppers –
Time to make salsa perhaps, or a green chili? Kristin made a delicious tomatillo soup this week with ours – try it out perhaps? Husk and halve your tomatillos, broil them in a baking pan until they begin to blacken. Puree them with lime juice and garlic cloves. While the broiler is broilering, sautee some onions and peppers in a sauce pan, then add 2-4 cups of broth and shredded chicken /or beans /or hominy etc. Add the tomatillo puree and season to taste with salt and pepper.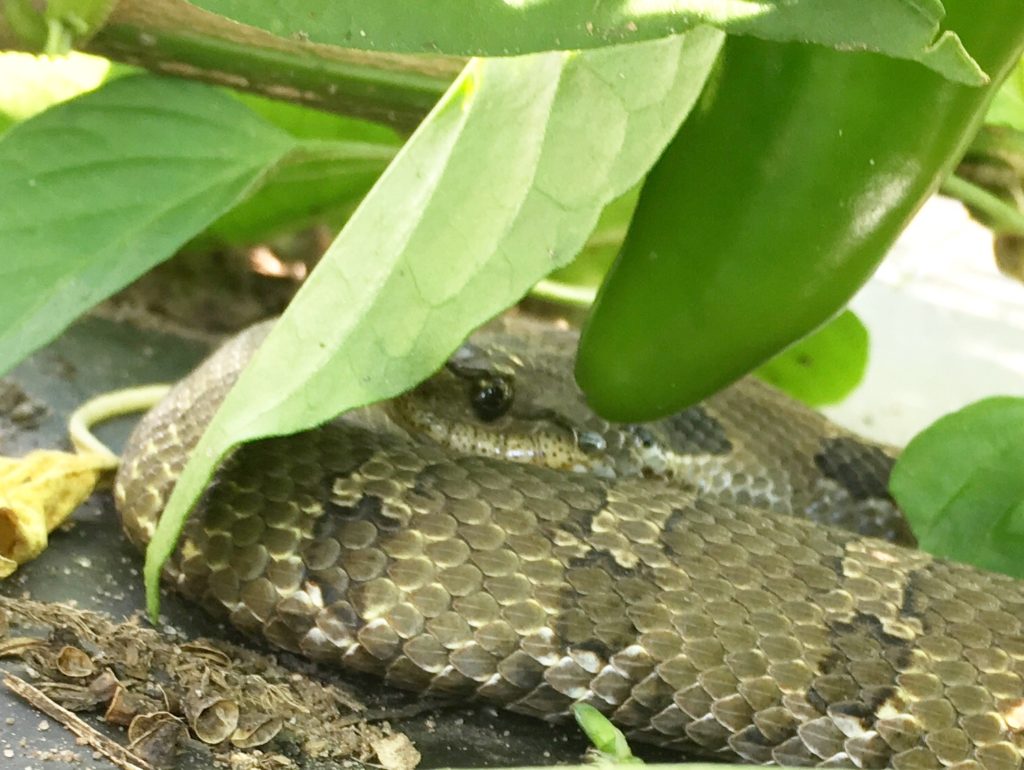 Sweet Peppers –
loose in the box – Note that there is a red pepper in there loose that looks much like the red cayennes bagged with the tomatillos – don't be fooled.

Not spicy. But not to be confused with the Cayenne peppers

The bagged ones are hot, the loose ones (Italian Frying) are not!

Onions
Rutabaga –


too big for the boxes – two 13 pounders

Neighbor Marcie mashed hers – you could try that, perhaps blended with some potatoes. They have a sweet flavor when cooked – and to mash them, you'd want to cook it thouroughly (chunk it and boil it, with or without potatoes).

Kristin recently has been cubing ours up small and tossing them with coconut oil in a dutch oven, cook them covered over medium heat until tender. Then season with salt & pepper, smoked paprika, or curry.

Eggplant –
either 1 Italian or 2 Thai eggplants. See previous newsletters for idears if Google isn't helping.
Cucumbers –
little picklers and larger slicers … the late season second planting is producing wonderfully!