It was a lovely summer week.
The heat and humidity took it down a notch, and the mosquitoes faded to far more reasonable levels – just in time for our friends Nik and Michelle's wedding on the Farm. It was good to have a reason to get things cleaned up and put away a bit, and wonderful to look around with new vision, seeing just how uniquely beautiful our surroundings truly are.
We also did some serious weed remediation, using the motorized machete, aka my old lawn push mower, tilted back to wheelie blades-first into the forests of weeds coming up in the aisles around the tomato and melon plants. Fall broccoli, cauliflower, and cabbages were transplanted out into the field. We weeded the onions, leeks, crushed potato beetle larvae and pruned-n-trellised up the constantly-growing tomato plants.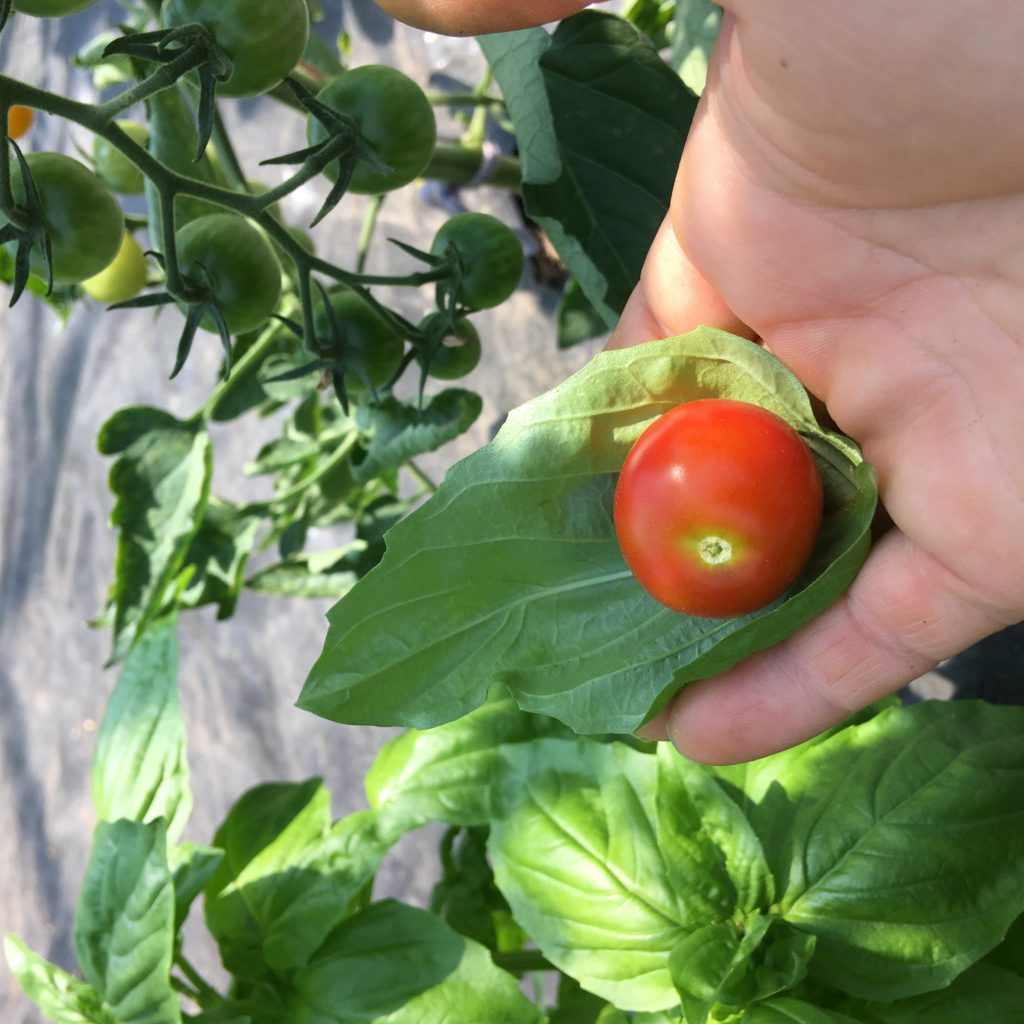 The earliest tomatoes are starting to ripen, the eggplants are sizing up, the okra is popping.
Summer is summering, and it sure is fine.
Week 6 Box
A beautiful harvest day!? No rain, moderate humidity, minimal mosquitoes, no gale force winds … just sunshine, a light breeze, and gentle bees on the farm-field flower arrangements.
Flowers of the Field – Good for the soul. This article discusses the many ways you can eat sunflowers, but honestly I'm skeptical of anyone that suggests eating the prickly, tough leaves (zucchini, borage, sunflowers) of a plant in a salad.
Beans – A much lighter harvest than last week's. Probably best to not overthink them. Just sauté them up with some tasty seasonings and enjoy.
Red Cabbage – According to Wikipedia, "In acidic soils, the leaves grow more reddish, in neutral soils they will grow more purple, while an alkaline soil will produce rather greenish-yellow coloured cabbages. This explains the fact that the same plant is known by different colours in various regions."
Onions – Go with everything.
Broccoli – Florets are of course delicious but so is the stalk part if you peel it.
Zucchini – Ranging from tiny adorable ones to a few that I had to harvest Monday so they would fit in the box.
Cucumbers – Most likely the pickling type. They are just more versatile.
Dill – flowers are a flavorful and pretty compliment to cucumbers.