Storms herald the battlelines between summer air and the advancing autumnal armies. Nights are cooler – we added a blanket, but refused to close the windows. The sun is coming out later and dipping out earlier, leaving us in the dark for the opening of our early Farmer's Market harvest, and clipping out formerly productive field time from days' ends. The mosquitoes are subdued by cold spells and renewed by rainy ones. One recent sundown, we grumbled at a flock of geese that seemed suspiciously southbound.
It's hard not to start these with weather talk. Maybe there's no reason to fight it – after all, it's at the center of growing for you. (Although I have no such excuse for the alliteration.)
After the success of Okra Fest last week, we had to follow it up with Eggplant Fest – where we celebrated the featured vegetable with varied dishes, up to and including dessert. The eggplant incarnations were uniformly tasty: spicy grilled to parmesan crusted baked, smoky baba ganoush, tomato/eggplant relish, and a chai-spiced eggplant pudding. (There were going to be eggplant chips but they took a wrong turn and were abandoned.)
This is how we party now.
The pudding was perhaps surprisingly delicious – especially as it had to compensate for its gray coloration … next time we may brighten it up with some garden huckleberry.
I know I promised / threatened to bombard you with eggplants this week, but we decided to send out just a couple, since we couldn't fit everything in the boxes already (which is why your watermelons and leeks are ala carte).
(Plus, we ate a ton of them.)
BOX(+) 13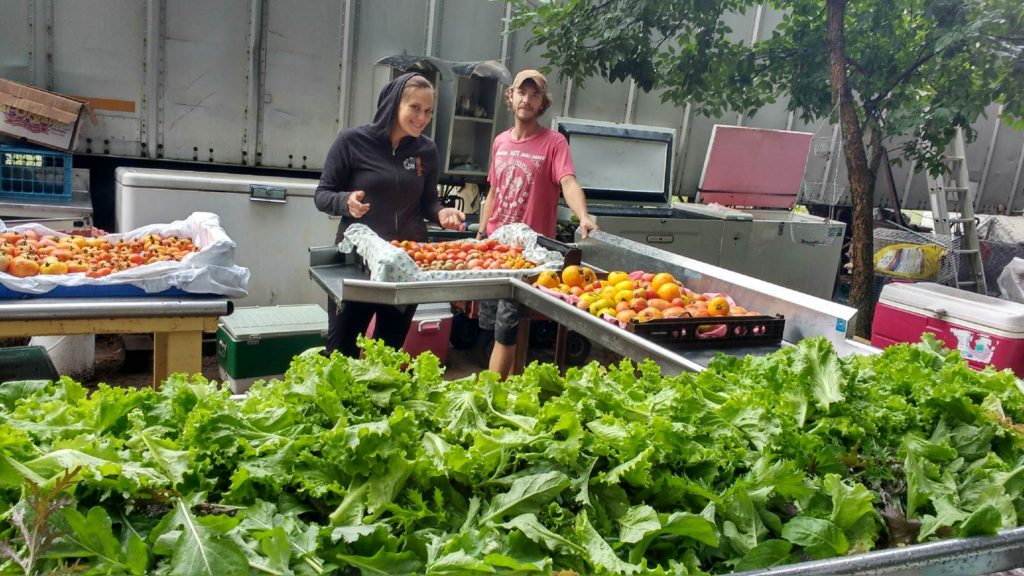 Leeks – Our first ever harvest of these! Giant onion-grass stalks. If you want to be able to separate the layers, chop off the root end and separate them. Try Googling up a recipe for leek soups, pastas, confit, galettes, pesto … and crispy fried leek greens.
Watermelon – Yours may be red or might be yellow, but it should be sweet and delicious regardless. I've noticed that the seeds can be downright tasty and crunchy when they're small.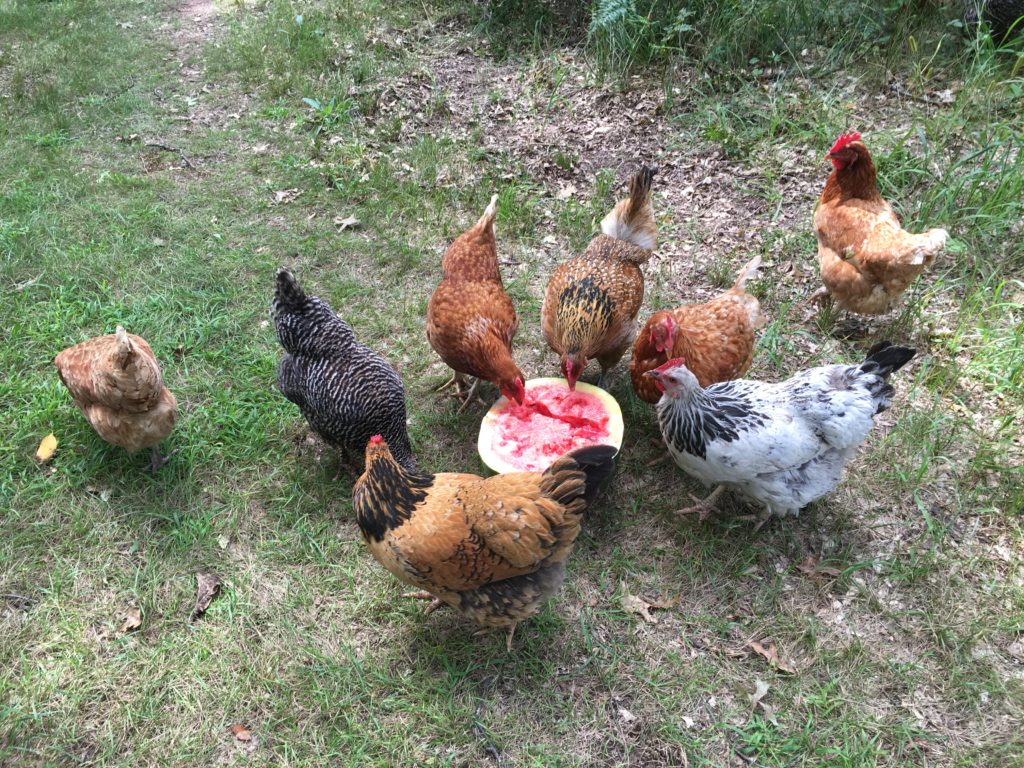 The Return of Salad Mix – Green & Red Lettuce, Arugula, Pea Tips, Mizuna, Baby Kale That's the biggest arugula I've ever seen – yet still tender and mild. The lettuce is also tender but large-leafed – great for a chopped salad.
Tomatoes – The plants in the field look like Charlie Brown's Christmas tree for the most part, but there are still fruits ripening…
Ground Cherries – A team of three people spent the better part of a day first harvesting and then sorting out the bad from the good ones, so that your bag could consist of the tastiest possible fruit!
Sweet Peppers
Eggplants (Italian & Asian)
Kohlrabi – Don't miss this one – it's an unusual and worthwhile treat. Lots of ways to eat them but raw is simplest and great, just sliced up and maybe salted or peppered.
Peppermint and/or Chocolate Mint – You can make tea if you want to, but wouldn't you rather make a mojito?
a couple of Cucumbers
a Zucchini – the storm has passed, and these are on the wane.
Chicken of the Woods (Large Shares only)  – Kristin found this growing on a tree  next to our driveway during harvest – there was not enough to split up between everyone unfortunately! Wash, slice up, and sautee it with butter. Don't wash it down with booze. Nope.