So it begins!

We had beautiful weather for our first harvest of the year, and help from a pair of WWOOFers that are spending two weeks camping, helping, and learning on the farm with us.
Similar to the two-month "working honeymoon" (http://www.quesehrafarm.com/category/honeymoon/) we took this winter, Tom & Taylor are traveling around the country for up to a year working on farms for room and board – before returning to Iowa to start their own farm up.
Your box this week contains the earliest risers of the season:
Radish Greens – these are super nutritious, and delicious in stir fry, soup, etc. One simple preparation is to chop them up with a clove or two of garlic, cook them together in a little oil for a couple of minutes with some salt or soy sauce.They cook down in size considerably, and have a much more pleasant taste and texture cooked than they do fresh. Cooking with also hide the minor blemishes caused by hungry flea beetles (the holey damage is purely cosmetic, and very difficult to avoid in with organic practices). Eat them in the next couple of days – they don't keep for long! Some recipes can be found here: http://www.thekitchn.com/dont-toss-those-radish-greens-145724

Curly Cress – horseradishy goodness. Too strong and peppery to throw into the salad mix we thought, but delicious once you taste test a bit of it and experiment. Try adding some to sandwiches, deviled eggs, steak, soup, or salads, in a quantity that suits your tastes.
Sunflower greens – great for snacking on plain, on sandwiches, or added to your salad mix. We prefer them raw and have not much enjoyed them when cooked – they lose their appealing texture.
Green onions – can be used whole or chopped up, sauteed, added to your radish greens, or perhaps chopped up with oil and vinegar to make a dressing to go with your:
Salad Mix of the Week: this seasonal mixed bag includes Arugula, Ruby Red lettuce, Oak Leaf Lettuce, Amaranth (the beautiful red leaves), Pea Tendrils, Baby Kale, Baby Bok Choi, Wild Spinach, & White Clover flowers.
Red Russian Kale (large-size shares only) – we had just enough for the big box shares this week, but everyone will get some soon enough!
Wash your stuff before you use it – we do rinse and spin dry most everything, but it could still use a rinse before eating to get any remaining grit off!
Note: we'll need the boxes back to use again and again, and we'd love to get the produce bags back if they are clean enough to reuse!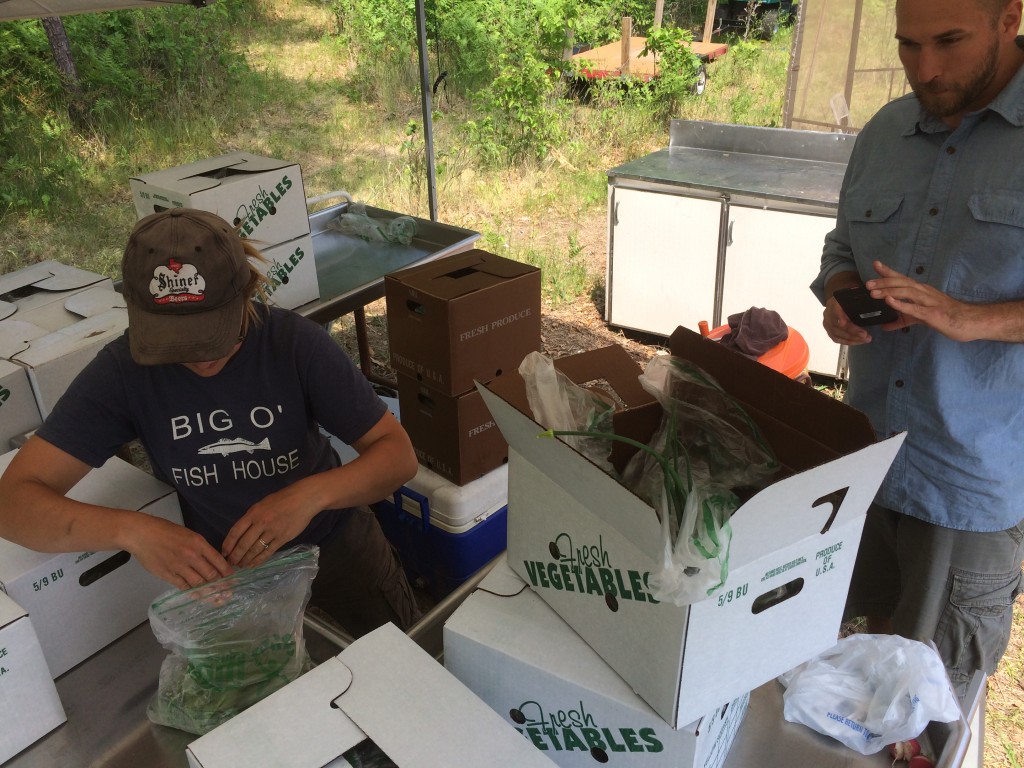 Here are some pictures from the last couple of weeks, leading up to today's harvest!