Dave Marquardt was our Neighbor.
That doesn't sound like much, maybe. The word "neighbor" doesn't mean more than houses in proximity, for most. But Dave helped teach us what being a Neighbor can mean.
See, Dave died last week. And I really couldn't have predicted how hard it would hit, so literally close to home – and how major this transition into a future without Neighbor Dave would feel.
As I searched through ten years of blog posts, it became clear how present he had been throughout our history here, how instrumental in the creation of the field, the high tunnel, the root cellar … and our life here in the Barrens. So I brought some of those stories together, hoping to sketch a portrait of the Neighbor whom we have been so lucky to have.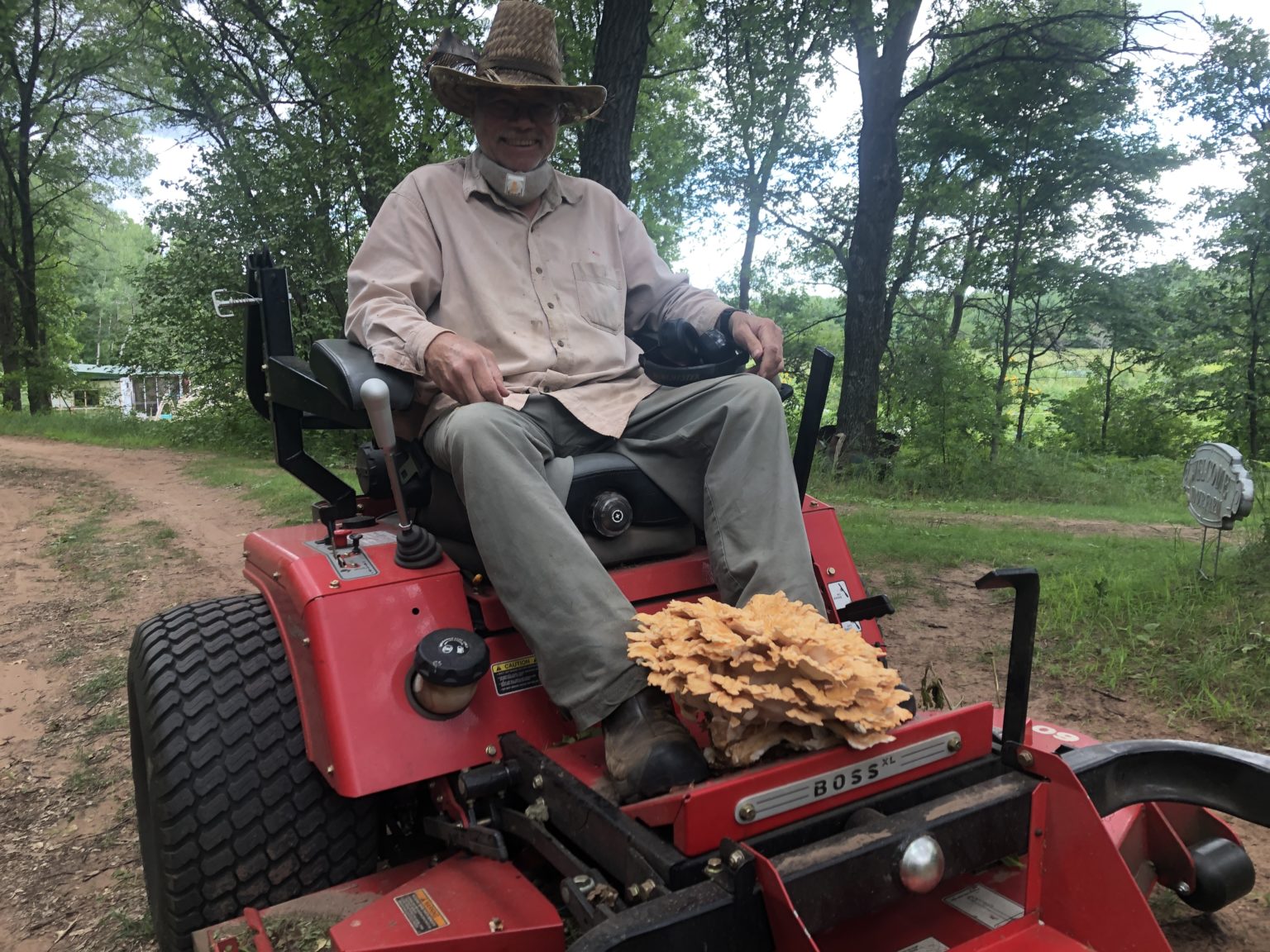 Won't you Be My Neighbor: a Decade of Dave
From the beginning, Dave and his tractor helped us prepare the field – driving past in 2011, he'd seen Kristin struggling alone to bring forth food from the sand and weeds, without tools, irrigation, or fencing … just her pure indefatigable gumption.
Dave loved to reminisce about those early days, how impressed he'd been, how he'd driven over and introduced himself… and began the relationship that would nurture our farm and family for years to come.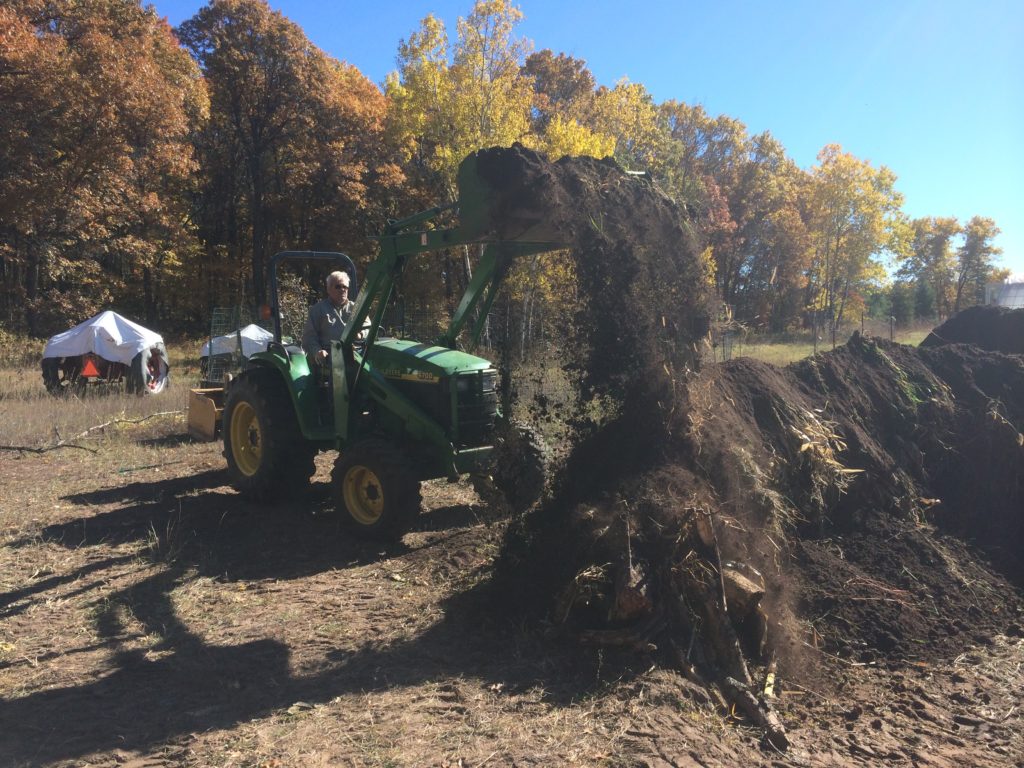 I used to call Dave "Tractor Man" – imagining a rural super hero in a John Deere-green cape who heard the distress call and came swooping in to save the day.
"This week, we finally cut down the "Ultimate Ticking Time Bomb" – the dead oak that leaned over the trailer and loomed over our bed. Neighbor Dave brought his tractor and a long cable over, and pulled the tree away from our home, while Kristin worked the chainsaw.

Of course, the old tree didn't go without a fight – after it was "safely" down and we were removing the branches, one of them broke under tension and came flying freakishly up off the ground, broken end spinning around to punch Gabe just above the upper lip, splitting his face open. Dave got us a razor to shave it to the skin, so that his tape strips would hold the wound closed – although it was deep, it was remarkably clean, allowing it to mend nicely."

– September 24, 2014
Notably, in the decade we've been here full time, we never had to worry about being trapped in by the snow – because Neighbor Dave made our driveway a part of his plow routine, keeping our path clear even when we were Down South for the season.
After our first year living on the farm, we managed to get ourselves stuck in the Marquardts' driveway on our way out of town … and Dave pulled us out, the first of many similar times that "Marquardt Search & Rescue" would save the day.
"Over the two days before we planned to leave, a storm buried the farm beneath 16 inches of snow – and nearly trapped us there. The snowplow took 2 and a half days to clear the road, just in time for us to leave – and our amazing neighbors Dave & Marcia helped us escape – plowing us out, and then pulling us up and out of their driveway when we got stuck there while trying to drop off some veggies as we departed."

– November 26, 2014
Building the 70x30x15′ high tunnel greenhouse was a huge undertaking for us, and if it wasn't for Neighbor Dave's help, we might be working on it still. When the semi truck first arrived with the new high tunnel kit within, we were instantly in trouble – we had no way to unload it all, other than unloading the entire truckload by hand, a piece at a time … but then Tractor Man swooped over and made short work of the unloading project … and kept on heroing for the rest of the build, from preparing the site and the soil and leveling and setting the foundation posts with his friend's laser level, to anchoring the massive end posts, to hoisting us up to secure the fasteners along each rib, and getting the plastic over the top when the frame was completed.
April 2015 – Neighbor Dave doing some tractormancy on a pile of aged horse manure, to prepare the soil for the new high tunnel greenhouse

"Construction went faster this week – in part because we had more experience, but largely because we had good help – Jim continued as project foreman, and we were joined by Neighbor Dave and his tractor – which allowed us to forgo awkward tippy ladder work, and instead simply work from inside the raised bucket, with all the necessary equipment and tools up with us."

– August 11, 2015
Of course, his neighborliness went far beyond tractoring … Dave was generous beyond compare – with tools, food, drink, and his time. At first, having never been exposed to such consistent and profound generosity, I thought the neighbors just thought we were super awesome … but eventually realized it was more the case that the Neighbors were super awesome, and we just so happened to have been the lucky fools that landed next to them.
"Neighbors Dave & Marcia kept our flock of hens happy throughout the winter, provided us with additional firewood to fuel both the greenhouse heater and the new WWOOFer cabin, lent us gopher traps and taught us their use, tools, and best of all, their tractor!

Plus, when I was despondent thinking I'd killed our well pump (it turned out to just be a flipped breaker in the generator), Marcia brought over rhubarb custard dessert and ice cream; I literally cannot imagine better neighbors to have."

–
As we explored the neighborhood and tested our capabilities, we got ourselves into various jams – and Neighbor Dave was always incredibly willing and remarkably able to help us out of them – we dubbed the neighbors "Marquardt Search & Rescue," after the pattern became evident over the years …
"… in short order, we were well and truly stuck, the van having excavated a pit around the front passenger tire, the van resting on a deep, soft bed of sand.

The sun was setting, we were miles from anything, with two dogs and a baby. Fortunately, when I hiked up the hill, I was able to get phone service – and even more fortunately, was able to get in touch with our amazing neighbor (and CSA Member!) Marcia, who came and rescued us, as we walked down the road in our mosquito netting, as Otis laughed and cooed and thought this novel experience was the most fun he'd had in days.

The next morning, Neighbor Dave – the other half of the Marquardt Search & Rescue Operation – came out with his truck and helped pull the van out of the sand pit it languished in …"

– July 31, 2018
That wasn't the only times we got unstuck Dave rescued us from getting ourselves stuck in the barrens .. Otis still remembers the time he saw his first rainbow, as we waited on a logging road for Tractor Man to come pull us out of the massive puddle we'd mired the Subaru in …
Oftentimes, the rescues were not because we were literally stuck, but mired over our heads in projects that were made easy with Neighbor Dave's help … they neighbors would somehow know we could use help without being asked, with heroes' spidey-sense …
"I began the struggle of tilling through the remaining roots and weed stalks with our little walk-behind … when I heard "STOP! STOP!" through my hearing protection.

And lo and behold – like an angel there appeared Neighbor Marcia, bearing glad tidings – Neighbor Dave had the tiller attachment hooked up to their tractor, and he could come and make short work of the area I was in if we could take down the fence a bit for access. And now the thick growth has been transformed into a nice fluffy uniform soil, ready to have salad mix, beet, cilantro, and dill seeds sown directly into for the late season's harvests."

–
Even this last year, as his health problems mounted, Neighbor Dave made the CSA newsletter a couple times, first with the generous bounty of grapes shared with us from the booming vineyard Dave had cultivated …
"We have one just neighboring home out here on the farm, kitty corner from us. We have always considered ourselves incredibly lucky to have them – and now you can share a little bit in our fortune with this jelly. Neighbor Dave & Neighbor Marcia aren't just neighbors and O.G. CSA members – they're also vignerons! OK, I had to look that word up – they cultivate a lovely vineyard, and last fall it was bursting with grapes … a bounty that they shared with us! We don't make wine … but we sure love homemade jelly. So enjoy some unique grape jelly, made by your farmers, with wine grapes from fellow CSA members!"

– June 13, 2023
… and then with an epic final tractor rescue, where we were able to witness Neighbor Dave in his zone, working his flow state, making a complex and seemingly impossible rescue look easy, his tractor not a mere machine, but an extension of his good-natured and helpful will …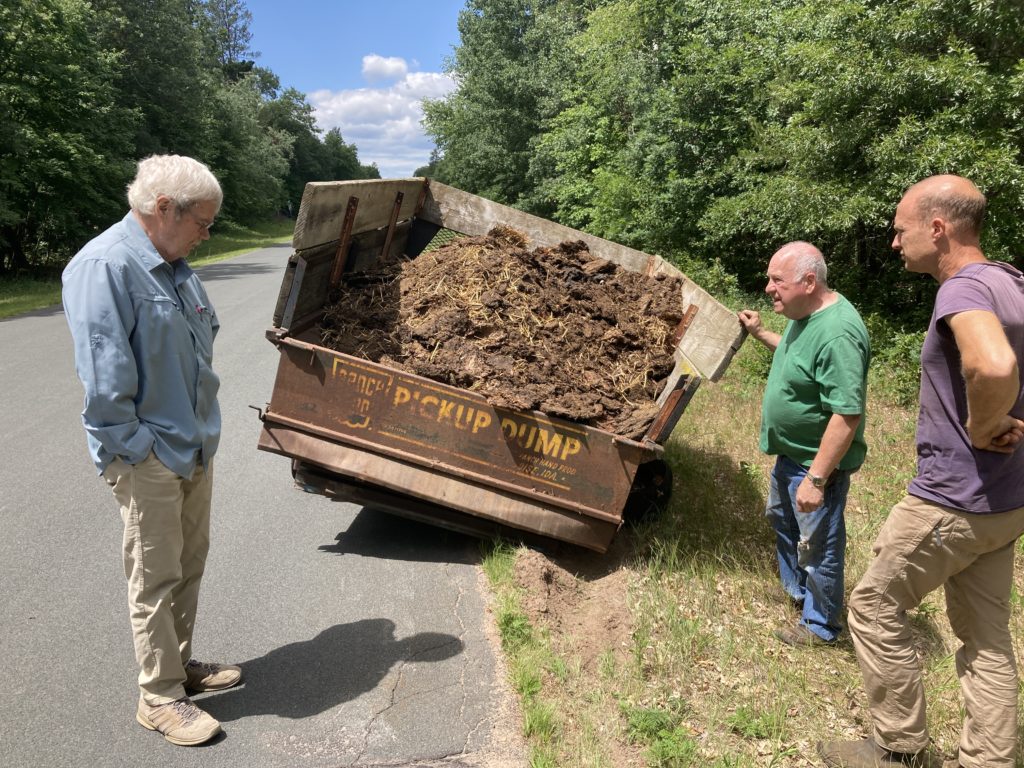 "Things seemed hopeless for the trailer and its load of fertilizer … until our friend, neighbor, and CSA member Dave rolled up on his tractor like a knight in shining armor and saved the day. He and Grandpa Jim coordinated an amazing mechanical ballet, effortlessly spinning the crippled trailer around to level it and tipping it vertically to empty it out into a pile the tractor bucket made quick work of cleaning up (transferring it to the neighbors' larger dump trailer)."
"With that trailer along with Dave's truck, we were able to go back and use shovels, wheelbarrows, and the skid steer to clear out about half of the barn and get the contents home to be used next year. It was a lot of work and stressful when the trailer imploded, but everything got back on track so quickly and easily – thanks to the power of experienced and kindly neighbors – that it felt like something good that happened, instead of something … well, yeah, shitty.

Sometimes you need those little tragedies as opportunities to let the good times roll, the good people shine, the serendipity and magic and blessings that surround us to reveal themselves. And sometimes it's literally poop. I love this life …"

– July 11, 2023
… and sometimes, it's the big tragedies we need, to realize how lucky we have been – to have had Dave Marquardt as our friend, as a teacher … and as a Neighbor in the most powerful and meaningful sense of that term, in a way that I never understood a neighbor could be, until our neighbors here patiently, wordlessly taught me.
We loved you, Neighbor Dave – and if we didn't know what we had until it was gone, I guess it's because some things are too big, too prevalent, to really notice properly as discrete things – when they are the environment, the bedrock, the conditions that make life possible .
We do know, now … deep in our guts, in the knots in our throats, and in our hearts as we look around the Farm every day and still see Neighbor Dave, larger than life, in every direction.
His spirit is built into the foundations here, and we glimpse his twinkling smile in a visiting dragonfly, and a punny mushroom in the chicken yard.
Dave, we are going to sorely miss your living presence in our lives – but we will never be apart from your spirit here.
Thanks, Neighbor.