This week, we appreciated the delicious silver linings of the recent logging going on around our farm . While we loved the scrubby oak forest, and miss it … it's damn hard not to enjoy a generous bribe of fresh wild fruit!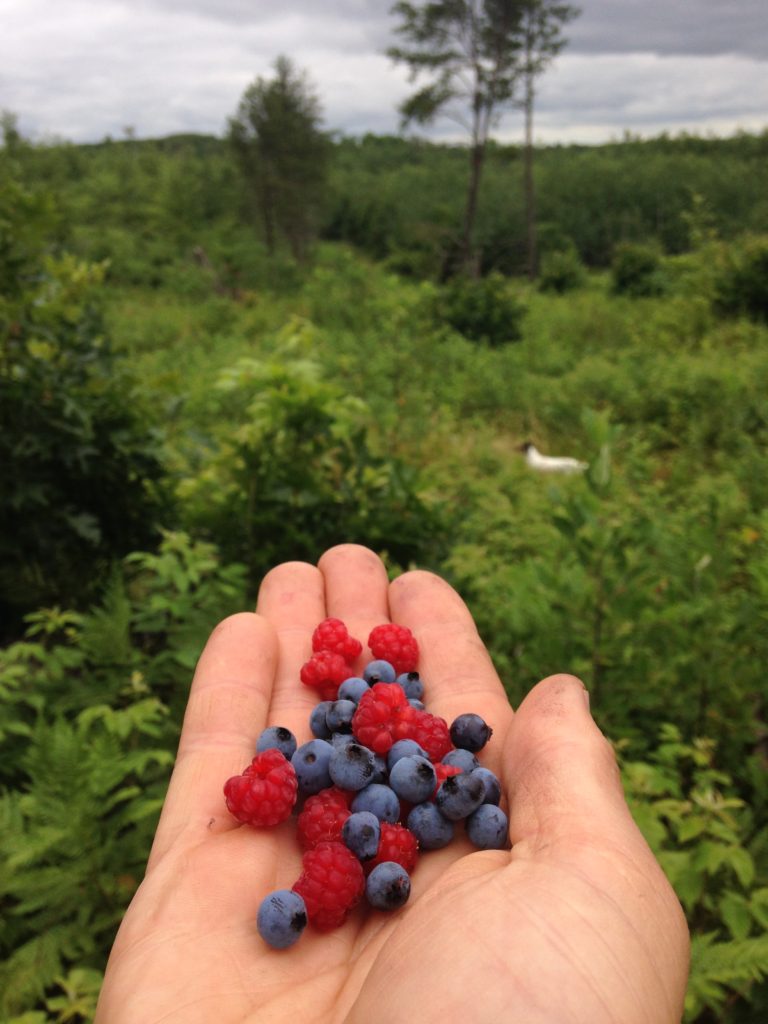 As we'd hoped/predicted in May, the severely-logged area adjacent to our land has erupted into edibility.
The fruit bushes which had been patiently plotting and biding their time down in the shadows of the tree canopy are seizing their moment in the sun, as we discovered late last week on a walk through the woods – when we realized we couldn't even walk between the ripening raspberry bushes without squishing the abundant clusters of ripe blueberries growing beneath and around them.
Plus it's sort of a return to it's long-ago form – as our local historian explains, "The Indians called the Sterling Barrens "Mashkode" which we translate as "flower covered prairie." It was mostly open when the first white settlers came with low brush including blueberries, raspberries, blackberries, cranberries, and all sorts of wild cherries, hazelnuts, and butternuts. It was still mostly open at the turn of the century, until fire control and tree planting started in the 20s and 30s."
So I'm glad I refrained from wailing, ranting, and gnashing my teeth too much. Because I need those teeth for eating all these delicious berries.
In field news, the peas are fading, as the beans are rising up and threatening world domination.
The high tunnel tomatoes are flush with green globes that refuse to rush into reddening, there is just one brave pioneer eggplant in the field, seemingly unconcerned about the rising tides of zucchini and squash plants that seem poised to bury us all in their foliage.
Box #6
We hadn't had a rainy harvest in awhile, so this was a refreshing morning! Plenty of rain,  but the ominous thunder merely provided a soundtrack for a smooth harvest.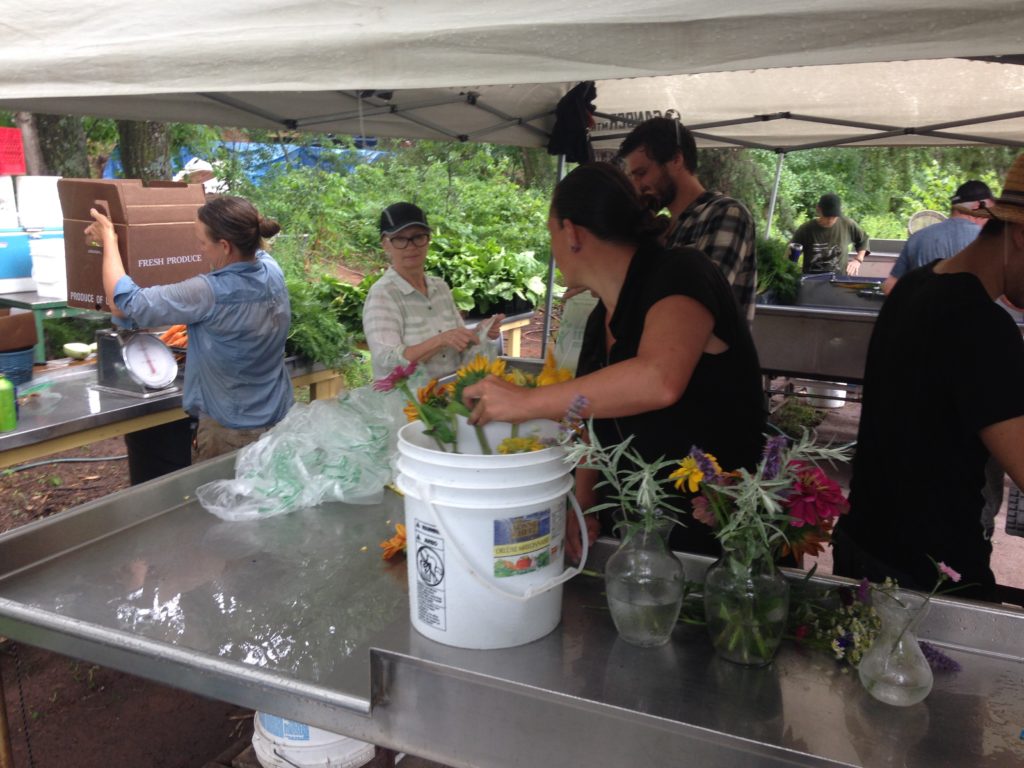 Red Cabbage – don't be intimidated by the beautiful beast! Here are a couple of recipes recommended by your fellow CSA members:Melissa's Recommendation:
Deb's Cabbage Slaw Recipe:

Dressing:

½ cup mayonnaise or olive oil (if allergic to eggs)
2 Tbsp. apple cider vinegar
1 Tbsp. honey
1 tsp. prepared mustard
1 garlic clove, minced
¾ Tbsp. poppy seeds
Juice of half a large lemon
Salt and pepper to taste
Whisk together dressing ingredients.

Slaw Ingredients:

2 small carrots thinly sliced
½ cup golden raisins
2 green onions thinly sliced (optional)
½ c. chopped pecans or peanuts
¾ of small to medium head of purple cabbage (approximately 3 pounds), thinly sliced

Directions:

Combine salad ingredients with dressing.
Cover and refrigerate for at least 1 hour.

a Bag o' Beans (Green, Yellow and Purple varieties)
Broccoli in your bag o' beans, because alliteration
Zucchini / Summer Squash
Garlic
Carrots
Beets (many varieties … Detroit Dark red, Chioggia, baby beets, golden … or secret mystery beets)
Basil (Purple & Thai)