It rained!!
I was pretty much resigned to it never raining again, and so I didn't feel prepared for sky water at all when we got a half inch on Friday night, and then 3/4″ on Sunday – over three times more rain fell over the weekend than we'd had all year!
This woke up the weeds, of course, so now we spend the time we don;t have to do hand watering and move hoses around on pulling weeds from around the crops.
But it also woke us up. It feels so much less … harsh now. The dull coating of dust and old oak pollen was cleansed, our spirits, likewise renewed.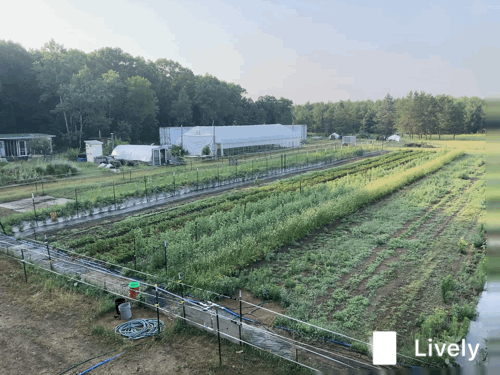 Which was good, because we needed some gumption to face the next challenge: the return of the voles. After losing almost all of our attempt at a spring broccoli crop to cutworms and deer, we were chagrined to have 20 of the fall broccoli plants devoured overnight by voles the day we put them out into the field. We quickly worked through the traditional stages of grief to the "bricks" one, and used some as an attempt at defense – plus liberal spraying of castor oil to the survivors.
Night two – they seem to have moved onto eating huge holes into kohlrabi roots, but we had enough of those to bear the wilderness tax. The broccoli abides …
What's in Box 3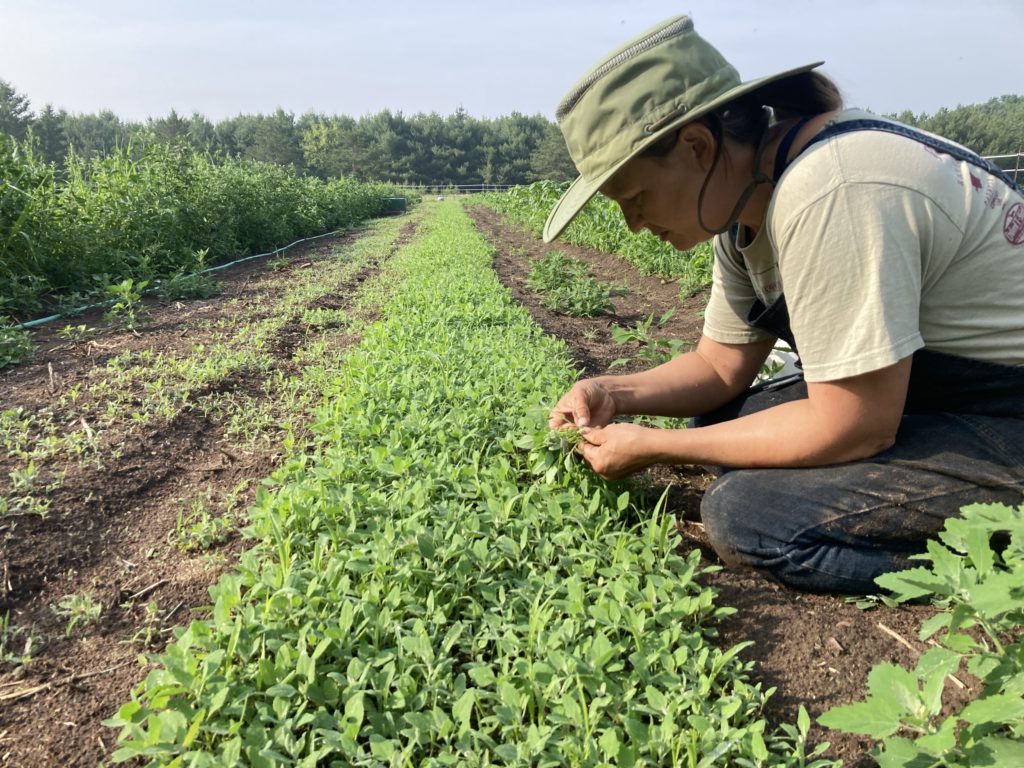 Kohlrabi, by the A.I – One simple way to use kohlrabi is by peeling off the outer layer and slicing it into thin matchsticks to make a crunchy kohlrabi slaw. Toss it with lemon juice, olive oil, and a pinch of salt for a refreshing side dish. Don't forget about the greens of kohlrabi. Sauté them with garlic and a splash of soy sauce for a quick and nutritious side.
Wild spinach aka lambs quarter – We had a problem in which our entire carrot row was carpeted with a soft carpet of lambs quarter weeds. So this morning, instead of harvesting salad, we weeded the carrot row – producing a bounty of the most tender, ideal wild spinach leaves we've ever managed to harvest. You can use it like spinach in any recipe, but don't cook it for too long – this is very tender stuff. Be gentle to the Microweeds.
Green Onions
Bok Choi
Peas – sugar snap and snow peas
Summer Squash / Zucchini
Micro Mix – kale, amaranth, broccoli, radish, sunflower, pea shoots, red and cabbage micro greens – I wouldn't eat it on my cereal, but it adds a zabinga to just about anything else.
Things You Might Try, by the A.I.


We curated its suggestions some though, the thing has some interesting ideas that we don't want to recommend:
Here are some recipe ideas that feature two or more of the ingredients you mentioned:
1. Stir-Fried Bok Choy with Snap Peas and Spring Onions: Sauté sliced spring onions and snap peas in a wok or skillet until crisp-tender. Add chopped bok choy and stir-fry for a few minutes until wilted. Season with soy sauce, garlic, and ginger. Serve as a side dish or over rice.
2. Zucchini and Snap Pea Salad: Thinly slice zucchini and blanch snap peas until crisp-tender. Toss them together with a light vinaigrette made from lemon juice, olive oil, Dijon mustard, and fresh herbs like basil or mint. Top with shaved Parmesan cheese for extra flavor. This just doesn;t sound good. Unless you make a killer dressing.
3. Kohlrabi and Snow Pea Slaw: Shred kohlrabi and combine it with sliced snow peas in a large bowl. Add a dressing made from Greek yogurt, lemon juice, honey, and Dijon mustard. Season with salt and pepper. Let the flavors meld for a while before serving.
4. Lambs Quarter and Bok Choy Stir-Fry: Sauté lambs quarter and bok choy with garlic, ginger, and sesame oil until wilted. Add a splash of soy sauce and a sprinkle of red pepper flakes for heat. Serve as a nutritious side dish or with steamed rice. The bok choy would need more time sauteeing than the lambs quarter .. but if you're careful it might be … I dunno Kristin says it sounds like a bunch of mush.
5. Zucchini and Kohlrabi Fritters: Grate zucchini and kohlrabi, squeeze out excess moisture, and combine with beaten eggs, breadcrumbs, grated cheese, and chopped spring onions. Form into patties and pan-fry until golden brown. Serve with a dollop of Greek yogurt or a zesty dipping sauce.
These are just a few ideas to get you started. Feel free to experiment and modify the recipes based on your preferences and available ingredients.